Lakeview Water Treatment Plant Expansion Contract 8, Phase 2
Mississauga, ON
Client:  Regional Municipality of Peel
Delivery Model: Design-Bid-Build
Prime Consultant:  Jacobs
Value:  $135.9 million
Completion: September 2014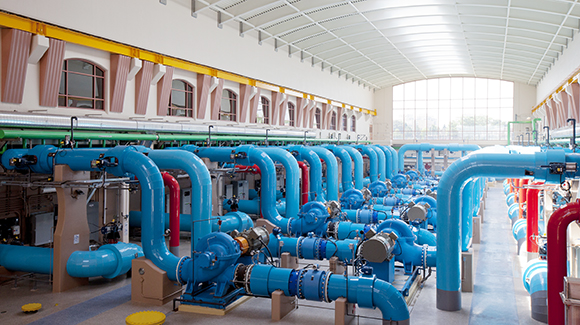 The Lakeview Water Treatment Plant services over one million residents in the Regions of Peel (Mississauga and Brampton), York and Bolton. The expansion required demolition followed by construction of a new 400 ML/d water treatment facility bringing the plant's capacity to 1,150 ML/d.
The 8,000 m² building features a large span steel roof and precast wall panel system. It has 3,200 m² set aside for mechanical and electrical systems and 1,300 m² for a control room and other operational requirements.
Advanced treatment processes included ozone treatment, membrane filtration, UV disinfection, and granular activated carbon media filters. Installations also include extensive large diameter stainless steel process pipe, large chemical feed tanks and pumps, expansion to building plumbing, fire protection, and HVAC systems.
This project has received the 2015 Global Water Award (Water Project of the Year).